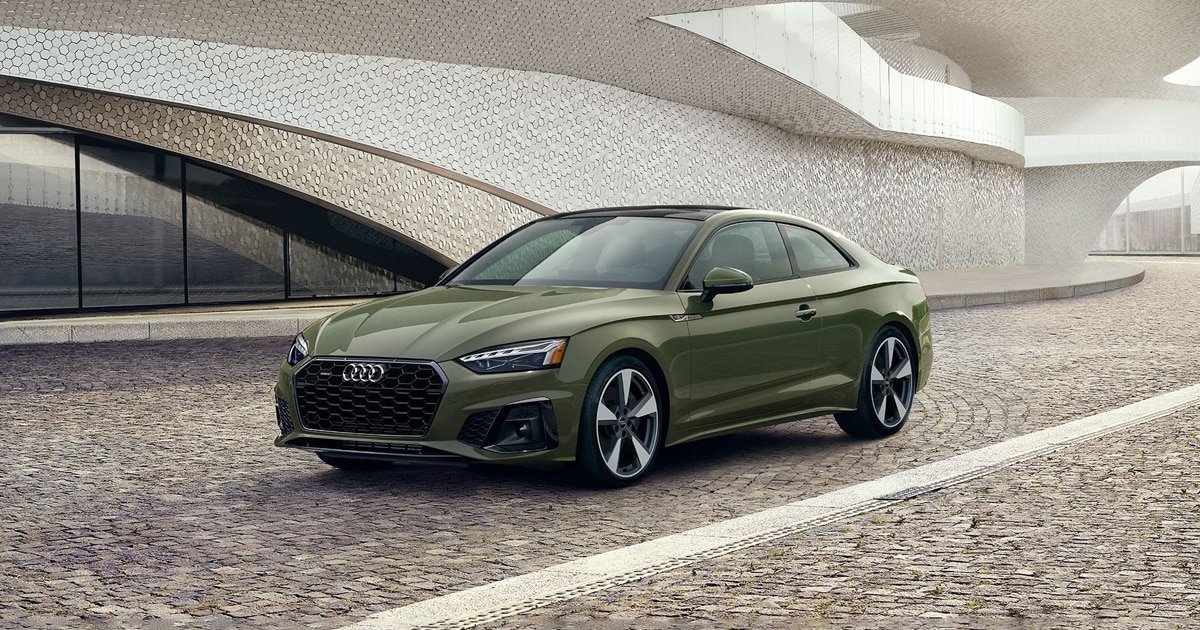 The Audi A5 featured in our Cherry Hill Audi store is a well-rounded small luxury car. It is the perfect impression of excellent performance with an array of potent engines and sporty handling.
The A5 should be on your list if you shop for a sporty luxury car in Philadelphia. And as soon as you get one, you will be treated with a comfortable ride, sharp acceleration, and lively handling.
2022 Audi A5 Overview
The 2022 Audi A5 coupe model has an eye-catching style. The body is sophisticated, athletic, and upscale, making it a great partner if you are a luxury driver who enjoys driving.
The 2022 Audi A5 Coupe is powered by a turbocharged four-cylinder coupled with a standard four-wheel drive. The engine is very potent and yields 261 horsepower. This 2022 Audi A5 feature gives you the best-spirited driving.
2022 Audi A5 Interior
The Audi A5 interior is modern, classy, and well-built. It has a comfortable cabin, especially for front-row passengers. The rear seat is somewhat tight, but the design will stand the test of time.
The interior of the 2022 Audi A5 exudes unmatched quality from every panel. The premium plus is finely grained and has soft-touch plastics with texture aluminum trim, a leather steering wheel, manual high extension, and motorized arm pushes, among other unique 2022 Audi A5 features.
The interior is beautifully assembled, sturdy, and durable. And you will also enjoy so much cargo space from the roomy trunk and flexible back seat that folds flat. But, that's not all; the car has plenty of cubbies and storage bins for your smartphone and small items.
Engine and Performance
The 2022 A5 offers four powertrain choices across its lineup. The powertrains range from capable to extremely powerful. The standard is a 201-hp turbocharged four-cylinder engine found in the Sportback.
You will get a 261-hp turbo four for the coupe and convertible. It has a smooth-shifting seven-speed dual-clutch automatic transmission. This engine is also optional in the Sportback.
The Audi S5 comes with a 349-hp turbocharged V-6 engine. The S5, therefore, boosts a better acceleration than the base A5, and its eight-speed automatic transmission further compels this. As a result, the S5 coupe can reach 60 mph in 4.4 seconds, the Sportback achieves the same in 4.5 seconds, and the cabriolet takes 4.7 seconds. On the other hand, the RS 5 gets to 60 mph in 3.7 0r 3.8 seconds.
2022 Audi A5 Price
Our store in Cherry Hill near Philadelphia, PA, has a collection of 2022 Audi A5. Not to mention, we have the best 2022 Audi A5 price.
You can get the 2022 A5 45 S Line Prestige Sportsback for $58,435, the A5 45 S Line Premium Plus Sportsback for $55,970-$56,270, and the A5 40 Premium Plus Sportsback at $54,820. You are, therefore, assured of very favorable prices.
Get Your 2022 Audi A5 Today
The 2022 Audi A5 offers everything you need in a small luxury car. Browse our latest inventory and contact us to book a test drive and check our fantastic finance options. So visit us and get your hands on the 2022 Audi A5 today.