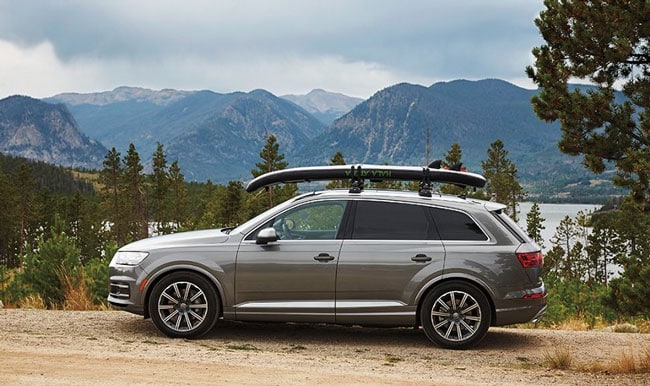 As families grow in size, deciding on which Audi to buy can be tricky. Many of the Audis offered are great for larger numbers of passengers. The best overall Audi for families with children, however, is the Audi Q7. Let's take a closer look at what makes this vehicle special at AudiCherry Hill.
The Audi Q7 – the Winner for Families
You really can't go wrong with any of the lineup of Audi SUV's. The Q7, though, stands alone as the ideal vehicle for families with young children. It is very spacious, as it can fit seven passengers.
It gets very high ratings for safety, especially in car seat design (LATCH) for the little ones. Other safety features include Quattro all-wheel drive for slippery conditions, available collision avoidance assist, rear cross-traffic assist and a top-view camera. All of these innovations are in place to guarantee a safe journey for you and your family.
Besides its roominess and exceptional safety features, the Q7 also contains many innovations designed with the new family in mind. Some examples are rear-seat USB ports, an impressive 360° camera system, a useful hands-free rear liftgate and sunshades for the rear of the vehicle.
Driving can also remain exciting for Mom or Dad, and the Audi Q7 delivers on that front. It has a hexagonal single-frame grille and high wheel frame cutouts. Its 4-cylinder engine puts out 248 horsepower and produces 273 lb-ft. of torque. Upgrades in the Q7 can lead to an even more powerful engine – a 6-cylinder unit that packs 329 horsepower, while outputting 325 lb-ft. of torque. Additionally, the Q7 comes with heated seats and a large sunroof, so the whole family can enjoy the performance and style of the vehicle together.
Get a New Audi Today
Any of the SUVs that Audi produces are great for families. The best Audi for families with young children, though - due to its safety, space, and design features - is the Audi Q7. When you visit us, you can test drive this model and the Audi Q3 for sale in Philadelphia to determine what SUV suits your needs the best.