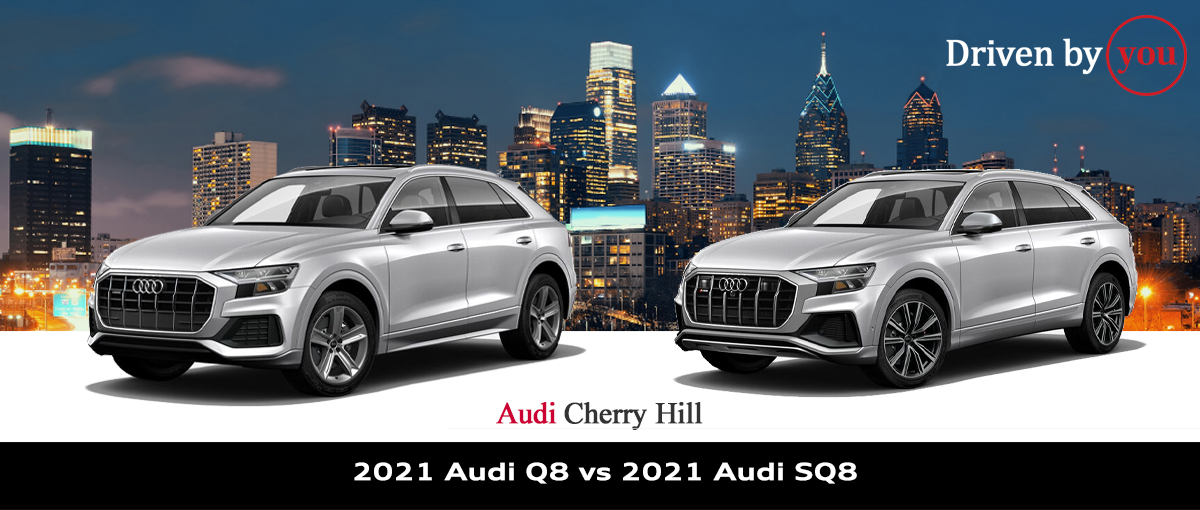 If you are in the market for a new SUV, you might be wondering about the differences between the 2021 Audi Q8 vs. 2021 Audi SQ8. At Audi Cherry Hill, we will perform a complete comparison of the two, so you can find the luxury SUV that fits your needs.
2021 Audi Q8 vs. 2021 Audi SQ8: Pricing
The 2021 Audi Q8 starts at just $69,295, while the SQ8 features an MSRP of $89,000. There are also other trim levels in the lineup with varying price points.
2021 Audi Q8 vs. 2021 Audi SQ8: Performance
The 2021 Audi Q8 comes equipped with a 355-horsepower 3.0-liter turbo V6, while the SQ8 includes a 500-horsepower 4.0-liter V8. If you want even more performance, you might prefer the RS Q8 models with the 591-horsepower engine instead. Whichever model you chose, you get an eight-speed automatic and Quattro all-wheel-drive. When properly equipped, these SUVs will tow up to 7,700 pounds.
The base Q8 achieves 18/23 mpg, while the SQ8 is rated at 15/21 mpg. If you prefer the RS Q8, you are looking at a fuel economy rating of 13/19 mpg.