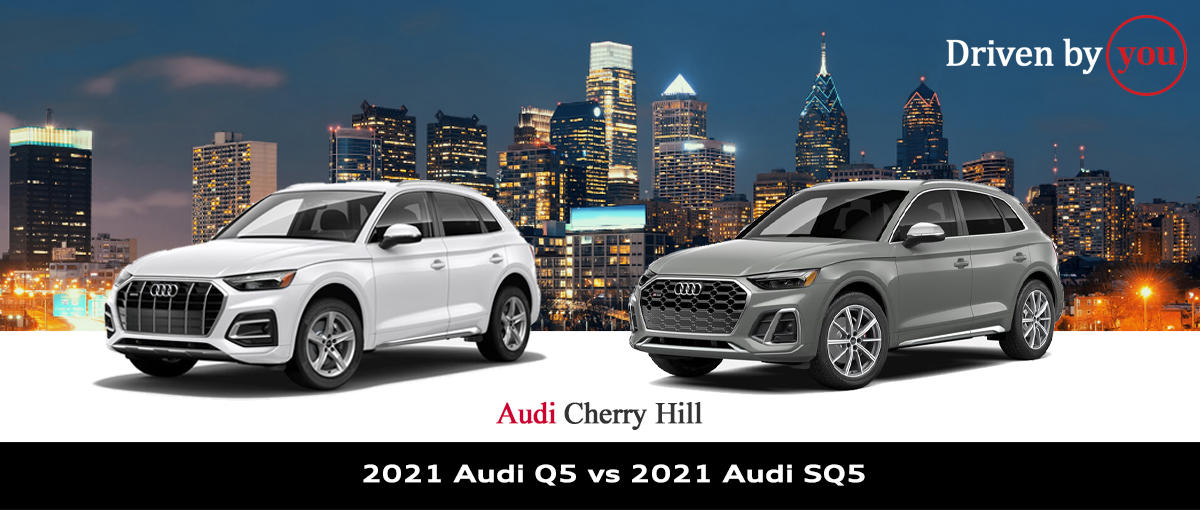 If you are in the market for a new luxury SUV, you might be looking at the Q5 and SQ5 models, but what is the difference between the two. At Audi Cherry Hill, we want you to find the SUV that suits your needs the best. That's why we've put together this comprehensive 2021 Audi Q5 vs. 2021 Audi SQ5 review, evaluating the performance, features, pricing and style of both models.
2021 Audi Q5 vs. 2021 Audi SQ5: Pricing
You can get behind the wheel of a 2021 Audi Q5 for slightly less, with a starting price of $43,300 versus the $52,900 MSRP of the 2021 Audi SQ5.
2021 Audi Q5 vs. 2021 Audi SQ5: Performance
Under the hood of the 2021 Audi Q5, you will find a 261-horsepower 2.0-liter turbo-four engine paired with standard all-wheel-drive and a seven-speed dual-clutch automatic transmission. In comparison, the 2021 Audi SQ5 includes a 349-horsepower 3.0-liter twin-turbo V6 and eight-speed automatic transmission.
The new Q5 achieves 23/28 mpg, while the SQ5 is rated at 18/24 mpg instead. However, you can tow up to 4,400 pounds when these Audi SUVs are properly equipped.