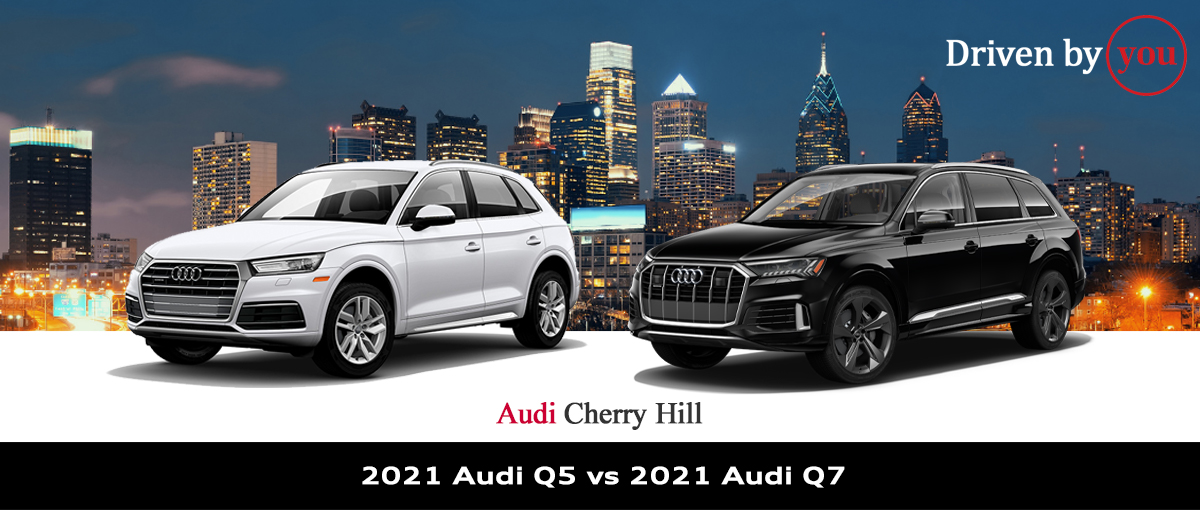 If you desire a new luxury SUV, consider the 2021 Audi Q5 vs. 2021 Audi Q7 in Philadelphia. While both models have a lot to offer, there are some major differences between the two. At Audi Cherry Hill, we evaluate the Q5 vs. Q7 so you can determine which one is better for you. Our Audi SUV evaluation looks at the safety ratings, performance, dimensions, pricing and more.
2021 Audi Q5 vs. 2021 Audi Q7: Pricing
The 2021 Audi Q5 starts at $43,300, compared to the 2021 Audi Q7 MSRP is $54,950.
2021 Audi Q5 vs. 2021 Audi Q7: Performance
Under the hood of the 2021 Audi Q5 is a 2.0-liter turbocharged four-cylinder that outputs 261 horsepower. This pairs with a seven-speed dual-clutch automatic transmission that helps the SUV tow up to 4,400 pounds.
Similarly, the 2021 Audi Q7 includes a turbocharged four-cylinder that produces 248 horsepower. However, there is an optional 335-horsepower turbocharged V6 engine that works with a 48-volt mild-hybrid system. As with the Q5, this model can also tow up to 4,440 pounds.