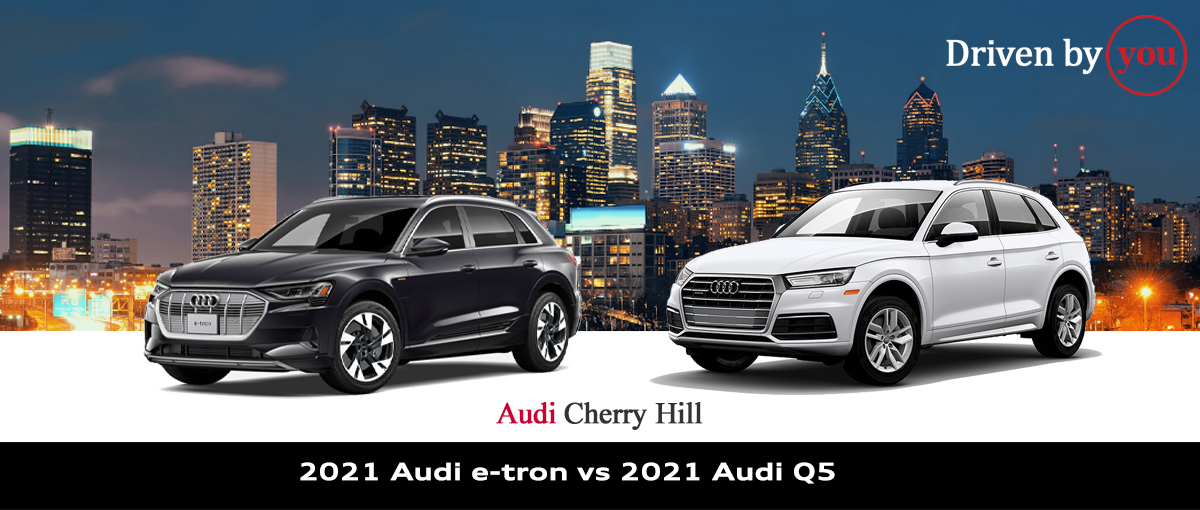 If you are looking at new Audi SUVs, consider the differences between the 2021 Audi e-tron vs. 2021 Audi Q5. At Audi Cherry Hill, we've performed a complete evaluation between the two so you know what to expect. Our comparison looks at the pricing of both models, in addition to the engine specs and standard features.
2021 Audi e-tron vs. 2021 Audi Q5: Pricing
The 2021 Audi e-tron starts at $65,900, while the new Q5 is priced at $43,300.
2021 Audi e-tron vs. 2021 Audi Q5: Performance
The 2021 Audi e-tron is an electric vehicle with a 95-kWh lithium-ion battery pack combined with two motors to produce 355 horsepower or 402 horsepower in shorter bursts. In total, it features a 222-mile driving range with the SUV and 218 miles with Sportback models. This electric SUV is capable of towing up to 4,000 pounds.
In comparison, the 2021 Audi Q5 comes with a 261-horsepower 2.0-liter turbo-four paired to a seven-speed dual-clutch automatic transmission. This Audi SUV tows up to 4,400 pounds.