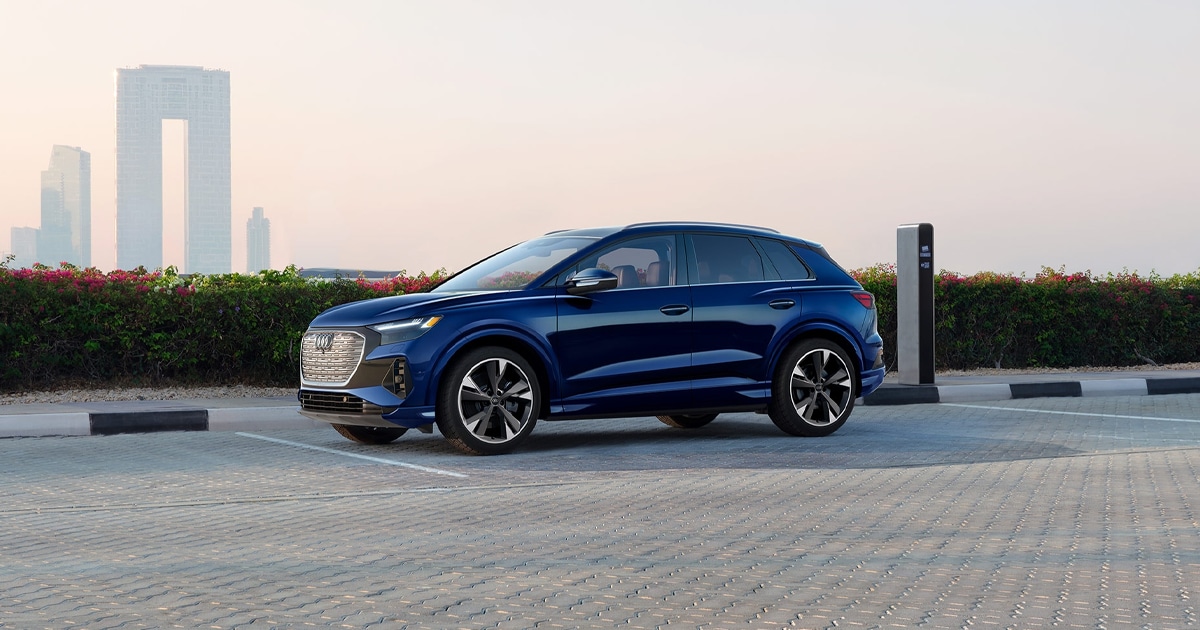 You might be in the market for a new ride and if you are, consider that some states will be banning the sale of gas-powered vehicles in the very near future. Now, although
you've got until 2035
to get on board with this, if you live in California, you should know that other states do plan to fall in line with this phaseout.
Aside from future requirements, you might be looking for something fun yet practical, and that's where the Audi Q4 e-tron steals the show. People don't just buy a new car for looks anymore; they buy them for safety, state-of-the-art performance, and overall... savings.
So, what exactly does an electric vehicle offer, and why do you need the top-runner of all Audi? Keep reading, and you'll see.
Audi Q4 e-tron: A Great Start in the EV Market
You rarely see a vehicle that gives you both a practical yet sleek and modern design. It's even rarer that that exact vehicle will take you farther, for less, without sacrificing comfort or high-end technology.
The Audi Q4 e-tron is already off to a fantastic start in the electric vehicle market, and it is expected to expand even further as more people are introduced to it.
Not only that, but this is the very first Audi model that features Augmented reality "heads-up" displays. What exactly is that? Well, it's a technology that gives you real-time information about your vehicle within your line of sight.
This tech was first used in U.S. military aircraft in the 1960s and has since migrated into vehicles. This little detail puts this electric vehicle on the top list for many.
Let's Talk Specs
Here's what to expect;
The 2022 Audi Q4 has a rear-wheel and all-wheel drive-line
You can seat five people and still have a spacious trunk making this great for families
Electric engine with 295 hp
You get 100 MPGe in the city and 89 on the highway
1-Speed automatic transmission
You can take advantage of 241 miles on just the battery range
MSRP starts at $43,900
With its miles of driving range, this Audi will easily challenge the Tesla Model Y. The Q4 will also challenge new Tesla Models and even the Volvo XC40 with its looks and likely win. This model is a crossover SUV powered by an 82 kWh battery and two electric motors.
These motors can produce up to 295 horsepower and a massive 229 pound-feet of torque. The Audi Q4 e-tron can go from 0 to 60 mph in only 5.8 seconds, leaving you feeling like you bought a brand-new toy. Plus, the 2023 model will shave 3 seconds off of that acceleration time.
Regenerative braking is also featured in this SUV, which gives you variety and more efficient stopping and take-offs.
The Price: It's Unbeatable for the Value
If you are worried about spending a fortune on a new electric car, the Audi Q4 e-tron comes in at an unbelievable value compared to other EVs on the market. The starting price of the Q4 e-tron is just $43,900, which is a winner compared to getting a fully-loaded 2022 Tesla Model Y for $120,990.
Getting What You Need and What You Want
The Audi Q4 e-tron is one of the best electric vehicles on the market today, and it's not hard to see why. If you live in the Greater Philadelphia area or Cherry Hill, NJ, Audi Cherry Hill is ready to get you in your new electric car. You shouldn't have to burn a hole in your wallet to get the vehicle you want and need.
Check out our new inventory and witness the EV of your future in action.