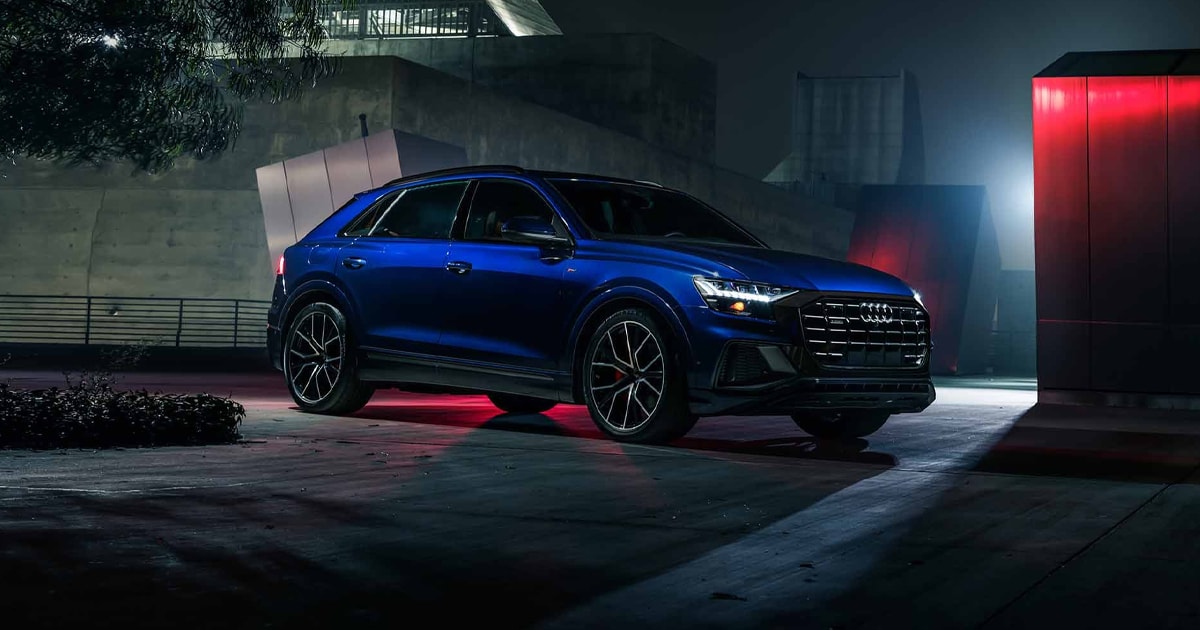 The Audi Q8 featured in our Cherry Hill inventory is a luxurious and extravagant SUV crossover coupé. The Q8 offers multiple desirabilities and magnificent features and rides beautifully off and on-road.
Our customers in Geo-Philadelphia will enjoy the cruiser performance of the Audi Q8 as well as the practicability. Below are some of the incredible features of the Audi Q8 that are astonishing for an SUV.
Audi Q8 Interior
The environment inside the Audi Q8 is sophisticated as you'd expect. The materials are extravagant, and the vehicle's panels are finely aligned. Also, you will have a lot of interior space that allows you to leisurely seat or stretch without a problem.
The base trim has a panoramic rooftop and standard heated front seats but misses the leather dashboard of contrast stitching and the four-zone climate control. On the other hand, top-of-the-line trims have upgraded leather surfaces, massaging front seats, and dual-plane glass. To top that off, you will enjoy ambient interior lighting and a head-up display, which you can customize.
Audi Q8 Technology
The infotainment system in every Q8 is cutting-edge. It has a pair of big touchscreens in the dashboard and center console. The center has a 10.1-inch touchscreen and an 8.6-inch touchscreen below it, and you will find a 12.3-inch digital gauge cluster behind the steering wheel. Therefore, you will have a slick setup.
The main screen controls the multimedia functions such as Apple CarPlay and the radio. It also manages other essential vehicle settings. Additionally, the digital gauge cluster is incredibly configurable and displays the map and navigation route in excellent detail.
Engine and Performance
The Audi Q8 has a turbocharged V6 engine with an eight-wheel automatic transmission and an all-wheel drive. The engine generates 335 horsepower. Thus you can easily navigate at higher speeds with the Q8 powertrain.
The acceleration is also swift, with the vehicle reaching 60 mph in 5.6 seconds. This makes the passing power incredible. You will also have a transmission that is smooth with quick gear changes.
The SQ8 trim delivers 500 horsepower from a twin-turbo V8. This trim is a beast and will get to 60 mph in 4.3 seconds, with the sprint followed by a guttural exhaust note. The engine is sturdy and responsive at any point in its rev range.
On the other hand, the RS provides 591 horsepower, with its agility akin to that of a sports car. The RS is nothing but ferocious. It gets to 60 mph in 3.7 seconds. Intriguingly, this trim can get to 190 mph if you have a racetrack that is long enough.
Audi Q8 Pricing
At our Cherry Hill store, you can get your hands on the Audi Q8 Premium Plus at $80,155. You will get adaptive cruise control, surround-view parking camera, lane-keep assist, heated steering wheel, ventilated front seats, a smartphone charging pad, and a 17-speaker stereo. Other options include adaptive air suspension, heated rear seats, and all-wheel steering.
Get Your Audi Q8 Premium Plus Today
Visit our Cherry Hill, NJ store if you are in near Philadelphia to view the Audi Q8 premium plus in our inventory. In addition, you can have a test drive and go through our financing options. Contact us today for more information.