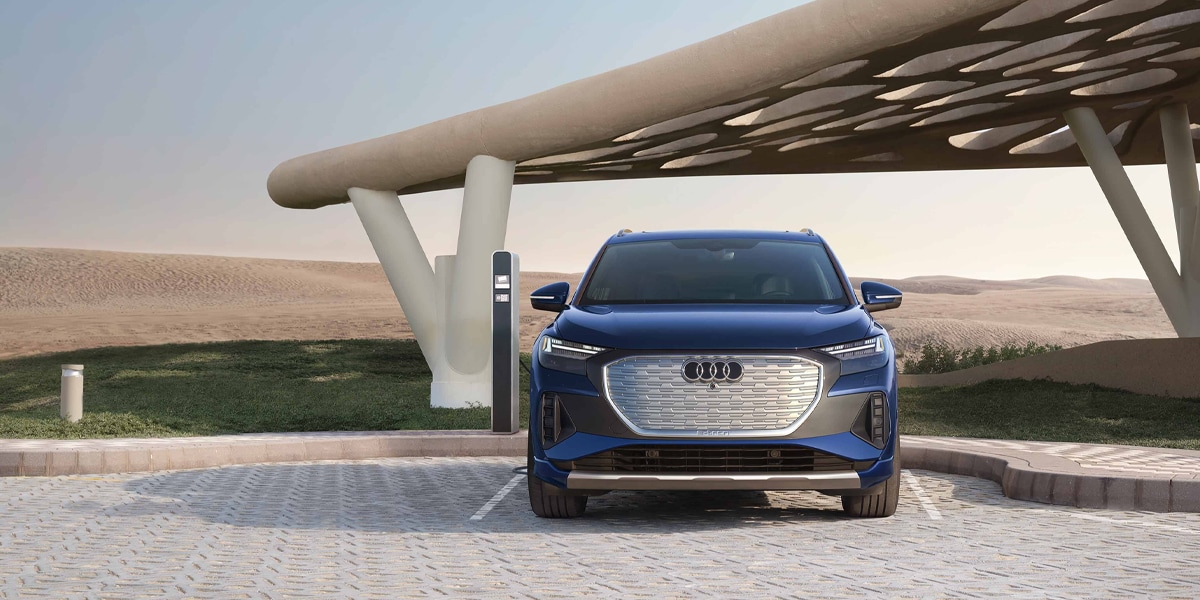 The Electric Vehicle revolution is here and to welcome 2022, Audi is bringing one of the most anticipated new vehicles to Philadelphia: the all-new 2022 Audi Q4 e-tron. This statement-making electric sport utility vehicle was designed from the battery up making sure this new SUV offers exactly what Audi drivers like you deserve while making the competition worry that even their future models won't be competitive. From its unmatched performance, unique design, and the latest technology, the all-new 2022 Audi Q4 e-tron is the one vehicle that will impress even the most particular enthusiasts.
Are you looking to learn more about the 2022 Audi Q4 e-tron? Want to see one in person and try it out? Come on down to your Philadelphia Audi dealer, Cherry Hill Audi, today!
The all-new 2022 Audi Q4 e-tron offers two powertrains: either the 40 or 50 series. With the 40 series, you get one 201-horsepower electric motor that powers just the rear wheels. When equipped, this setup should catapult your 2022 Q4 e-tron to sixty in under eight seconds!
The other optional powertrain is the 50-series which consists of two electric motors powering each axle with a combined 295-horsepower. This makes the Q4 e-tron 50 get to sixty miles per hour in around 6.2 seconds! Additionally, with the dual electric motor, this configuration gives your Q4 e-tron the famous Audi Quattro all-wheel-drive system which Audi claims "offers exceptional versatility and intuitive handling".
Swoop or No Swoop? That is the Question!
Already excited about the all-new 2022 Audi Q4 e-tron, one of the hottest rides near Philadelphia? Did you know that you have two body styles to fight over! From the standard SUV looks of the Q4 e-tron to the swooping rear end of the Q4 Sportback e-tron, this may be the toughest decision you will have to make all year! Let's take a closer look at the two.
First, the standard version features a traditional SUV configuration, designed to be slightly smaller than Audi's current Q5 while a bit larger than the Q3. Featuring plenty of interior space with storage throughout, this version checks the box for someone that needs the room for the entire family and their belongings.
As for the 2022 Audi Q4 Sportback e-tron, this truck is designed with a swooping rear liftgate which creates a coupe-like profile. Audi claims they designed the Sportback to have a "kinetic design" allowing for a look that flows seamlessly, just like the electric current powering the all new 2022 Audi Q4 Sportback e-tron. Not sure which version you like more? Come down to your Audi dealer near Philadelphia, Cherry Hill Audi, to see them in person!
Gadgets and Gizmos Aplenty
Even though electric vehicles aren't exactly new, the technology optimizing the all new 2022 Audi Q4 e-tron was designed to make converting from an internal combustion vehicle easy, once you are inside is where Audi's fit and finish really shine. For starters, all Audi Q4 e-tron SUVs come standard with an immersive 10.3-inch digital instrument cluster that provides an easy view of all the vehicle's vitals. It also comes with a massive 10.1-inch touchscreen infotainment system display.
Two of the more desirable options for techies in the 2022 Audi Q4 e-tron will be the larger 11.6-inch infotainment system, which is standard on higher trim levels, while the augmented reality heads-up display will provide one of the ultimate driver-assistant devices around.
Visit Audi Cherry Hill, near Philadelphia, and Get Your Hands on This New Hit!
Family-friendly, affordable, and classy, the 2022 Audi Q4 e-tron is a one in all. Therefore, schedule an appointment with our staff and visit Audi Cherry Hill, near Philadelphia, to get a hands-on experience on the new 2022 Audi!