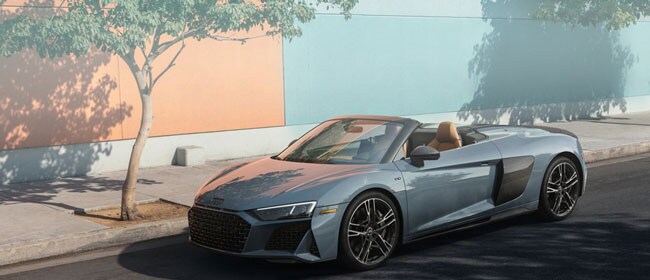 The 2020 Audi R8 Spyder is jaw-dropping. It is a V10 supercar that is stunning, inside and out. Let's take a look at some of the features that Audi added to this sleek machine coming to Audi Cherry Hill.
Design Features
The 2020 Audi R8 Spyder just looks fast and powerful. It comes with a new flat grille. Sharply angled front and side bumpers lead to an intimidating style. It is engineered for aerodynamics and performance.
It also comes with an acoustic folding roof. It raises and lowers within 20 seconds, changing the entire look of the R8.
Interior Features
The interior of the 2020 Audi R8 Spyder is packed with enhancements in luxury, technology and comfort. 18-way power sport seats are appointed with leather for style and driver and passenger comfort. The sport steering wheel adds panache with its flat bottom design. Automatic climate control is also offered for maximum relaxation.
Engine Performance
The 2020 Audi R8 is available in two different variations. They are the V10 Coupe and the V10 Performance. The V10 Coupe is a beast, and it pumps out a massive 562 horsepower. The V10 Performance steps it up to another level, though. It kicks out a whopping 602 horsepower.
The Audi R8 also comes equipped with Quattro All-Wheel Drive. This ensures maximum handling on all road conditions while improving the astounding performance of the car.
The designers of the 2020 Audi R8 Spyder Coupe also considered stability. The coupe offers a magnetic damping system. This technologically advanced feature analyzes data from the shock absorbers. It then responds by adjusting the damper system.
Drive the R8 Spyder
The 2020 Audi R8 Spyder is a powerful, beautiful machine. It will satisfy even the most sophisticated sports car enthusiast. Whether you want this or the Audi Q7 for sale in Philadelphia, you know where to find the best selection. Stop in and visit us today.