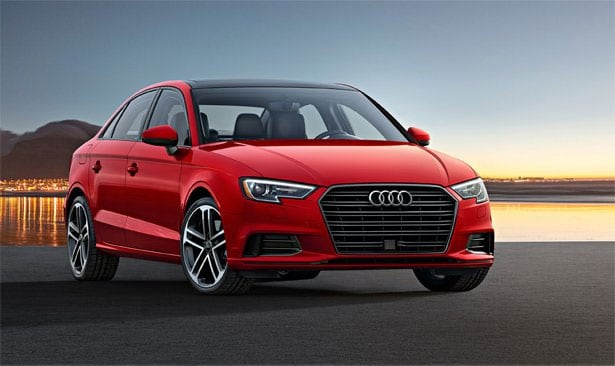 The 2019 Audi A3 is a solid blend of luxury, comfort and safety. In fact, it was awarded a Top Safety Pick by the Insurance Institute for Highway Safety. The A3 stands out among the competition and it is the complete package. Let's take a closer look at this vehicle at Audi Cherry Hill.
Design Features
The 2019 Audi A3 sports high visibility LED lights. It comes with the Single frame grille, which gives it a powerful look. It also comes with a power moon roof. Leather seats are standard, resulting in a luxurious look and feel. Plenty of cargo space is available, as the rear seats fold down to create more room. There are lots of stylistic details, such as the shift stick with a sphere knob and leather casing. The technologically advanced command center offers a touchscreen that controls entertainment and navigation.
Engine Specifications and Performance
The A3 sports a turbocharged 2.0L TFSI engine, which outputs 184 horsepower and 222 lb.-ft. of torque. As far as fuel mileage, it has a range of an estimated 22 mpg in the city and 30 mpg on the highway.
The Audi A3 has excellent handling, thanks to its well-designed suspension system. It comes standard with Quattro all-wheel drive. The result is outstanding traction.
Safety and Technology Features
The A3 offers 12.3-inch Audi Virtual Cockpit. The driver can customize the instrument display, and rotate between navigation and multimedia modes. It includes MMI Navigation technology and Google Earth to optimize navigation.
It also comes with several enhancements in driver assistance technology. The A3 offers Audi Emergency Pre Sense. It includes Side Assist with Rear Traffic. Another advanced feature it boasts is Adaptive Cruise Control. Audi Connect and Audi Park Steering Assistance are even more features.
Ready for the A3?
The 2019 Audi A3 is a well-rounded luxury sedan. Its balance of comfort, style, safety and performance will ensure driver satisfaction. Visit us today and take this model for a test drive.