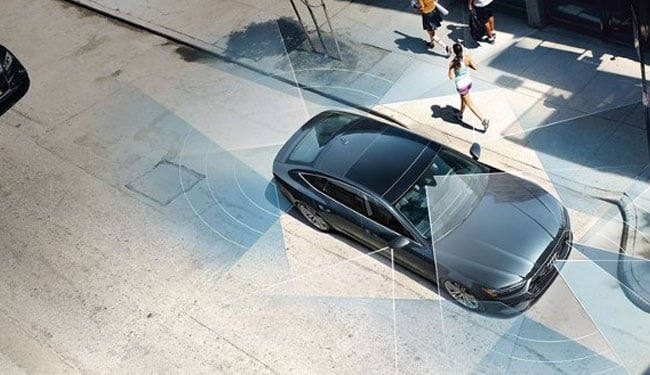 Are you looking for a high-quality family car? At Audi Cherry Hill, we have the new 2019 Audi A7 and we can't wait to share it with you. It's a beautiful vehicle filled with plenty of driver assistance technology. Let's get a closer look at what you can expect when you drive the A7.
Audi A7 Driver-Assist Tech
This luxury interior seats up to five adult passengers comfortably. It also has some technology that keeps you safe on the road, which offers additional peace of mind. The Audi Pre-Sense 360 Program contains numerous sensors that monitor the vehicle for danger. It prevents injury and accidents. There's no price you can put on a system like that.
Furthermore, the Audi A7 comes complete with all-wheel steering. On the majority of new vehicles, only the front wheels turn. With the back wheels moving as well, you have more control over cornering. These rear wheels turn in the opposite direction of the front wheels while taking tight corners to reduce the turn radius. It's like driving a race car, wrapped up in a road-worthy package.
Other Audi Models for You
Maybe you aren't ready for the Audi A7; that's okay. We have plenty of different models available for you. Check out the Audi A4 for sale in Philadelphia if you want a stylish sedan. We also have an Audi Q3 for sale near Philadelphia if you want a crossover. Or, you might just go bigger with the Audi Q5 for sale near Philadelphia instead.
If a new model doesn't work for you, test out a used Audi for sale near Philadelphia instead. We have a large selection that will save you more money. There are also plenty of deals happening for a limited time only. Don't miss out on the luxury Audi that suits your needs at Audi Cherry Hill.