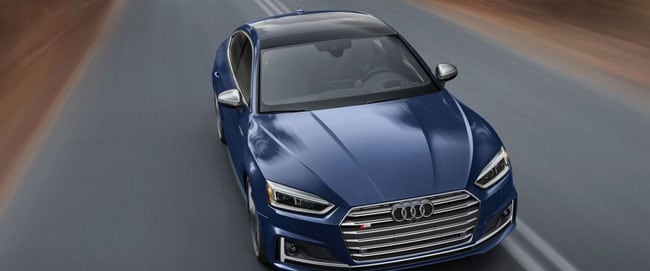 The Audi S5 Sportback is one of Audi's high-performance sports cars. It delivers good looks, an elegantly functional interior plus the power and handling that Audi is famous for. With a 4-door design, it not only has a trunk but also adds interior space with a hatchback integrated into its design. Let's look at this vehicle more in-depth at Audi Cherry Hill.
Engine Specifications
The Audi S5 Sportback comes equipped with a turbocharged 3.0L V-6 engine, which delivers 349 horsepower and 369 lb-ft. of torque. This is mated with an 8-speed automatic transmission with steering-wheel-mounted shift paddles. Acceleration from zero to sixty miles per hour is only 4.5 seconds. All-wheel drive (known as Quattro) also comes standard in the S5. Estimated fuel consumption comes in at 30 mpg on the highway, and 21 mpg in the city.
Exterior Features
Since it is an S line, the Audi S5 has several design features that make it sportier than its partner, the A-line. Its suspension is lower and has larger front air intakes and rear-fascia that accommodates four exhaust tailpipes. It also comes with model-specific alloy wheels.
Interior Features
Besides the hatchback integration inside the S5 Sportback, the vehicle also boasts supportive, comfortable sports seats and many ergonomically designed details. Heated seats with massage functionality are included, as are three climate-control zones and a sunroof. A 7-inch infotainment screen is embedded in the dashboard, and a separate 7-inch screen can be found in the gauge cluster. Other technological innovations encountered in the S5 Sportback are Apple CarPlay, Android Auto, voice control and Bluetooth capabilities. The interior of the S5 is also extremely spacious, and many large items can easily fit inside the rear space of the vehicle.
Combining luxurious form and efficient functionality, the Audi S5 Sportback is a versatile, high-performance vehicle. Whether you want to get behind the wheel of this functional vehicle or the Audi A4 for sale in Philadelphia, we can help. Come check out our selection today.