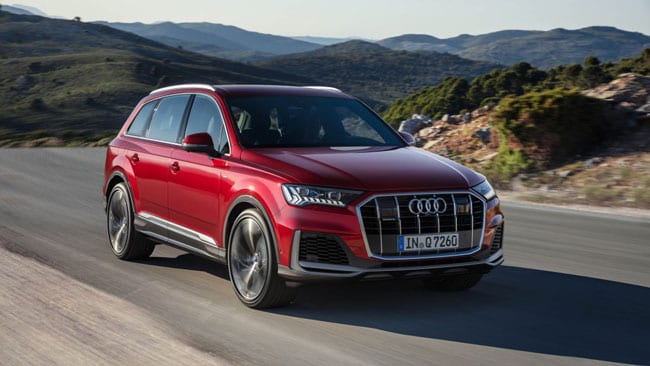 The rollout of the 2020 Audi Q7 is expected in the spring of 2020. Excitement is building, as news of design innovations and enhancements come slowly trickling out. The Q7 series originated in 2005 and has been steadily improving, inside and out, with each successive generation. Let's get a closer look at this vehicle from Audi Cherry Hill.
Exterior Features
The 2020 Audi Q7 is expected to borrow more stylistic design features from the Audi Q8, which will result in a sportier and more aggressive look. This includes slight alterations to the front, as well as slimming down the overall proportion of the sides of the vehicle.
Engine and Performance
Full details have not been provided regarding engine specifications in the upcoming version of the Q7. The 2020 Q7 is expected to come equipped with a turbocharged V-6 engine, as compared to the 3.0L V-6 that the current iteration has inside. An additional feature expected, besides the same reliable suspension as found previously, is the active anti-sway bar system that the Q8 boasts. Handling should be top-notch, as expected design features such as rear-wheel steering, air suspension, and adjustable dampers are predicted to be options again.
Interior Features
The interior of the 2020 Audi Q7 looks like it is being brought up to the levels of other current Audi models. An exciting technological innovation that will be added to the 2020 Q7 is a dual touchscreen MMI infotainment center. In contrast to the Q8, which fits 5 passengers, the 2020 Q7 will hold up to seven passengers with three rows of seating. Comfort and elegance inside the vehicle are expected to remain superior, as well.
The 2020 Audi Q7 is expected to continue the luxury, power, and comfort that can be expected from this storied line of vehicles. When you are ready for a new or used Audi for sale in Philadelphia, you can trust us to provide the best selection.