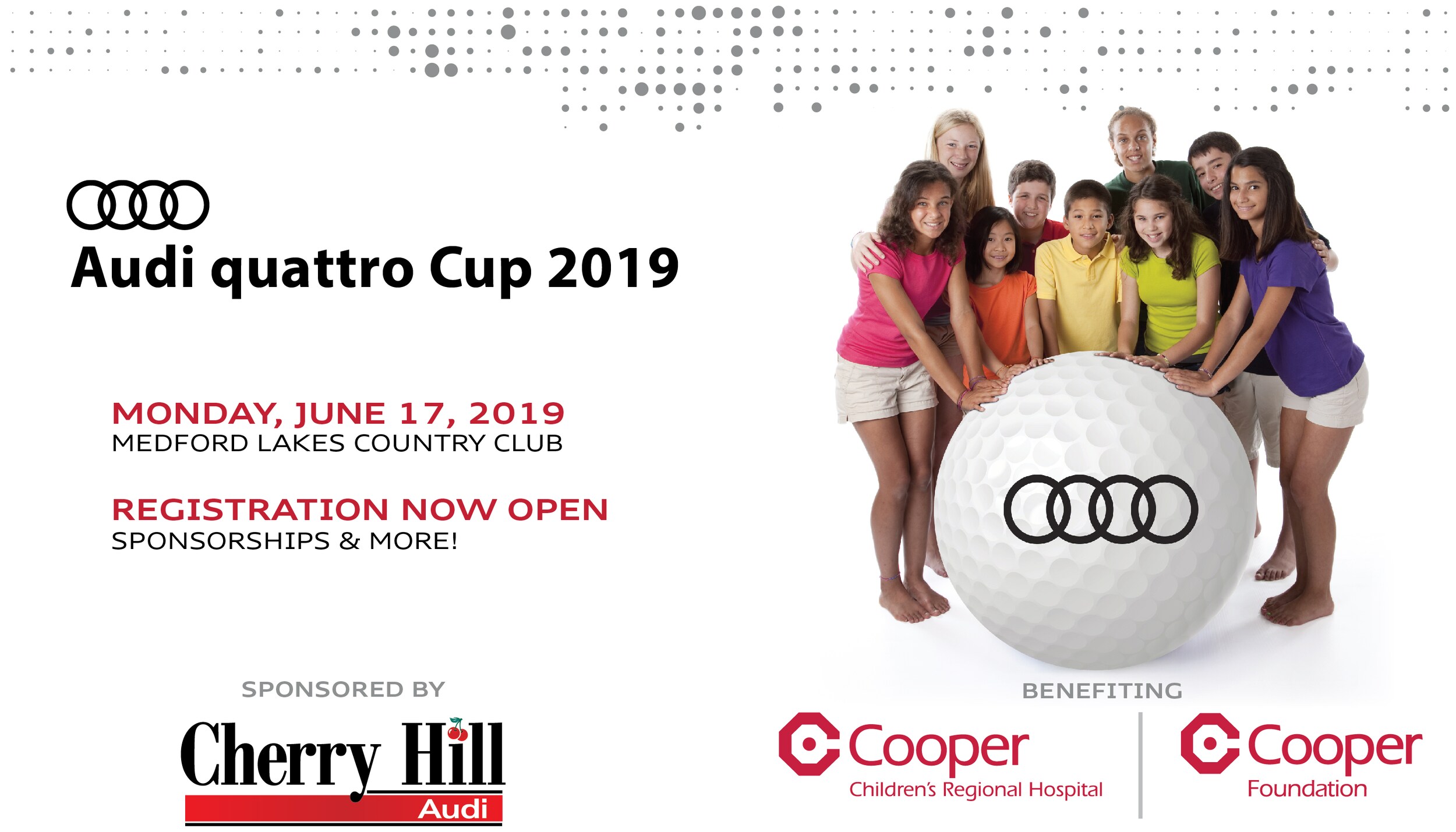 Audi Quattro Cup 2019
Monday, June 17, 2019
10 A.M. - 7 P.M.
Medford Lakes Country Club · Medford Lakes, NJ
 Prefer to register by mail or fax? Click here to download and print a PDF form.
---
Tournament Committee:
Michael Hartung • Amanda DiMattia • Andrew Hartung • Christopher Hartung
Louis DiMattia • Tim Carleton • Mark Tamburrino • Chris Vanacore • Jason Mangel
Welcome to the Cherry Hill Audi local Audi quattro Cup competition! We are very excited to be one of 110 Audi dealerships in the United States hosting a local competition this year,  in what is now one of the largest amateur golf tournaments in the world. Now in its 29th year, Audi quattro Cup is an established tradition where Audi's spirit of innovation, sporty sophistication of the four rings and the thrill of competition converge on  the golf course. The winning team will advance to the US Final at Kiawah Island Golf Resort, where they will have an opportunity to compete against other US finalists for a spot at the World Final in Kitzbühel, Austria.
Event Schedule:
• 10: 00 AM
Registration • Audi Test Drives • Gourmet Deli Lunch
• NOON
Shot Gun Start
• 5:00 - 7:00 PM
Deluxe Cocktail Reception • Award Ceremony • Silent Auction
Tournament Rules:
To see the full official rules, please visit www.audiquattrocup.us or stop by tournament check-in area.
• 2 Players per team 
• Each player must have an active handicap governed by the Golf Association
• Maximum handicap difference between both players: 20 (index)
• Playing format is select drive alternate shot (Greensome Stableford)
• Official Player Requirements state that if you participated in the US Final in 2017 or 2018 you are able to participate in a local tournament, but you are not eligible to advance or compete in the 2019 US Final. 
Golf Entry Includes:
• Chance to qualify for Kiawah Island Tournament* 
• Audi Test Drives
• Gourmet Deli Lunch
• Greens & Cart Fees
• Chance To Win A 2018 Audi
• Golf Prizes
• Deluxe Cocktail Reception
*Twosome must have an established Ghin Number.
About Children's Regional Hospital At Cooper:
Children's Regional Hospital at Cooper, the only state-designated acute care children's hospital in South Jersey, provides exceptional pediatric primary and comprehensive specialty care services. Recognized as a leader in pediatric care, Cooper has a renowned Pediatric Emergency Department, a Level III Neonatal Intensive Care unit and is a Level 1 Trauma Center that treats critically injured children. As an academic medical center, Cooper has the largest pediatric teaching program in South Jersey, training future physicians to care for the region's children.